Illusion of Reality
Date August 20th – September 11th, 2022
Business Hours 11:00 – 19:00
Closed on Mondays
*The first day (20th) will be open to the public from 15:00.
Place GINZA TSUTAYA BOOKS「FOAM CONTEMPORARY」
6th floor GINZA SIX 10-1, Ginza 6-chome, Chuo-ku, Tokyo
Organizer GINZA TSUTAYA BOOKS
Free Admission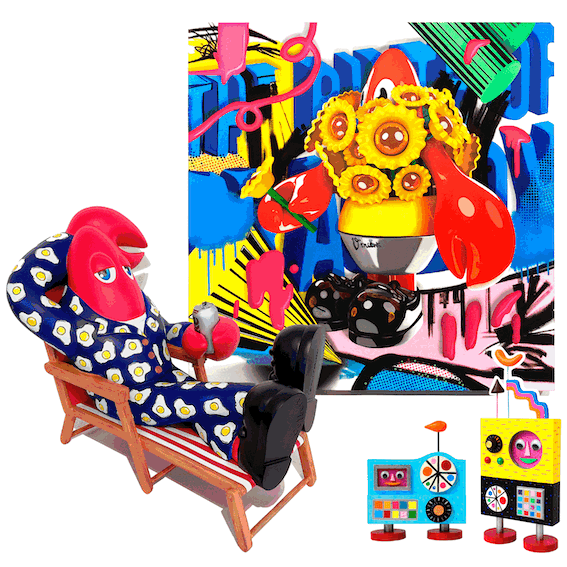 The artworks by 8 artists who come from different roots will be exhibited at FOAM CONTEMPORARY inside TSUTAYA Bookstores in Ginza.
Pop Art has reflected our life and commercial culture in general since the birth of the word; pop within the context of visual arts during the middle of 1950's.
The definition or interpretation about Pop may vary with the participating artists to this exhibition due to a different environment or state of society that each artist belongs to.
Philip Colbert has made a debut as one of the major emerging artists in 2017 in London. He captures a lobster as his alter ego, which surrealists like Salvador Dali often use their symbol. The work created by him consists of combination between historically great work of art and emoticons, derived from the today's SNS culture, and his work passes through time and space. Dongi Lee who has been evaluated as the first generation of a Pop artist in Seoul creates and releases "Atomaus" that combines symbolic comic characters; "Astroboy" and "Mickey Mouse". When Atomaus appeared in public in 1990's, no one treated it as a piece of art but as a part of comic. After some 30 years passed, such combined character has become very popular worldwide. Jonathan Seliger, a resident of Brooklyn, New York, is a conceptual artist to reconstruct daily products such as shopping bags, light bulbs, and milk cartons in high reproducibility by folding painted canvases and thin spread bronzes. Rodney Alan Greenblat from New York has worked as the character and world designer for the hit "Parappa the Rapper" and "Thunder Bunny". He continues to make for colorful and joyous three-dimensional artwork by liberating fictional characters into the real world. Clara Desire, originated from La Rochelle where is a west fishing port of France, draws and paints her loving comic characters. Her background influence is Future 2000, a pioneer of abstract street artist. At the same time Desire arranges imaginative words and sentences randomly as if she admires "Automatism", advocated by a surrealist, Andre Breton. Guido Argentini, originated in Florence is a creator of photographic expressions, based upon eros that reminds the viewers of their various imaginations in the storytelling set-ups. He is superb to bring best out of women's beauty and makes his own style. Mitsuru Sakurai is an adamant photographer to devote himself to steel towers and iron objects. The steel tower series that he has started to shoot since 2004 is his unique approach of creation to be visualized as if each steel tower is alive. The upcoming solo exhibition by Sakurai, taken place at Sho+1 is going to be a new body of his work, called "Base Point" that focuses on lighthouses. fusengirl ™ has been creating fictional individuals since January 1, 2020 on sticky notes and she continues to post them into SNS while Andy Warhol takes a different approach to be a portrait painter for real people. The artist marks each work with its creation date and her signature as if on that day, in that place, each person exists.
In this exhibition we are pleased to announce the variety of work that has been produced by the artists who live in the same generation with us.
Participating Artists:
Philip Colbert, Dongi Lee, Jonathan Seliger, Rodney Alan Greenblat, Clara Desire, Guido Argentini, Mitsuru Sakurai, fusengirl™
※ Exhibition schedule and business hours are subject to change.