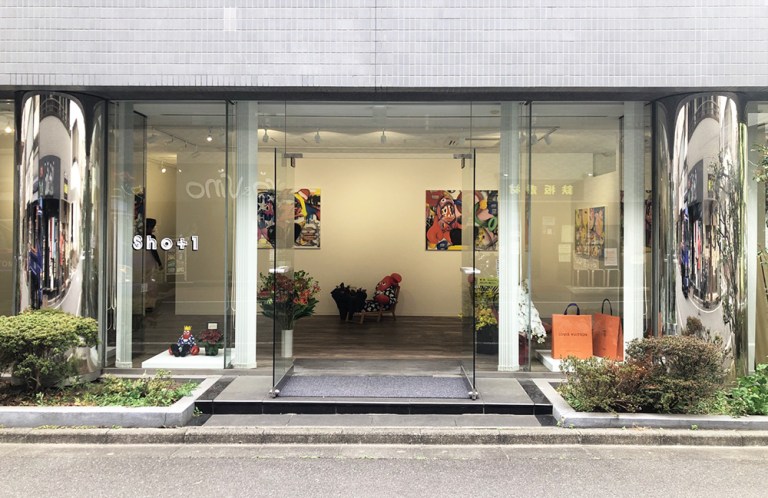 Sho+1 was established in August 2017 as a subsequent project of Galerie Sho Contemporary Art, which focused on introducing a variety of exquisite works by contemporary masters such as Jean-Michel Basquiat and Andy Warhol, as well as high-potential artworks by both emerging and mid-career artists from Japan and the globe.
When a gallery director, Shoichiro Satake discovered a hyper-pop artist, Philip Colbert at Saatchi Gallery in 2017, he planned and curated a Colbert's first solo show outside of UK region at Galerie Nichido in Tokyo in 2018. Since then we have played a role of a primary gallery for the following artists in Japan: Philip Colbert, Jonathan Seliger, a finish fetish artist from New York, Dongi Lee, a compounded comic character creator from Seoul, and Rodney Alan Greenblat, a jovial figure fabricator and computer game designer from New York.
The gallery exhibition program officially started at the downtown Tokyo location from 2021, and simultaneously some of the previously veiled Japanese artists have exclusively joined in our gallery program. Our roster of new artists includes, among others:
– fusengirl™ ('sticky-note girl', in English translation), a daily drawer and painter of imaginary individuals on tiny sticky notes;
– Mitsuru Sakurai, an adamant photographer of giant steel towers and iron objects;
– Naoki Kimura, a chronicler of the Renaissance and Japanese wabi-sabi beauty in photographs;
– Shinichi Hara, a creator of context for global contemporary painting beyond Pop Art and appropriationism who reconstructs postmodern paintings; and
– Kenji Misawa, a godson of Isamu Noguchi with an established international reputation as both a sculptor and a painter with strong potential emerging from an expressionist roots.

Access
Ueno Yokoyama Building 1F 1−4−8 Ueno, Taito-ku Tokyo 110-0005
Tokyo Metro Chiyoda Line Yushima St. Exit 6 Tokyo Metro Ginza Line Suehirocho St. Exit 4
TUESDAY THROUGH SATURDAY 12AM – 6PM
CLOSED ON SUNDAY, MONDAY & HOLIDAY