Destined Encounters



Exhibitors
Motoko Otsuki, Masaya Yoshioka, Rikizo Masusaka, Tian Xinyu, Huh Youah, Seol Jaeyoung, Aya Yoshida, Itsuki Mori, Konomi Makishi, Aoi Honjo, lil undone, Meena Hirama, Hikari Yamagami

May 20th - July 2nd, 2022
1st Stage May 20th - June 11th
2nd Stage June 15th - July 2nd
【Opening Reception】 Friday, May 20th 18:00~20:00

12:00 - 18:00
Closed on Mon. Sun. Holiday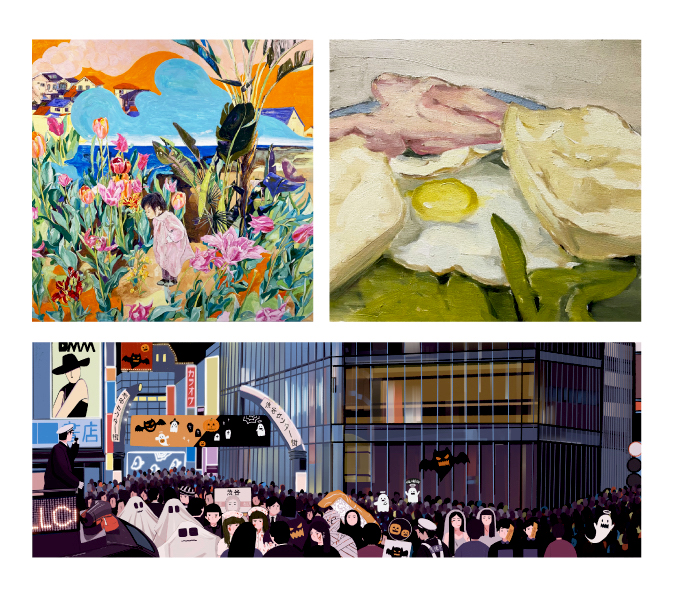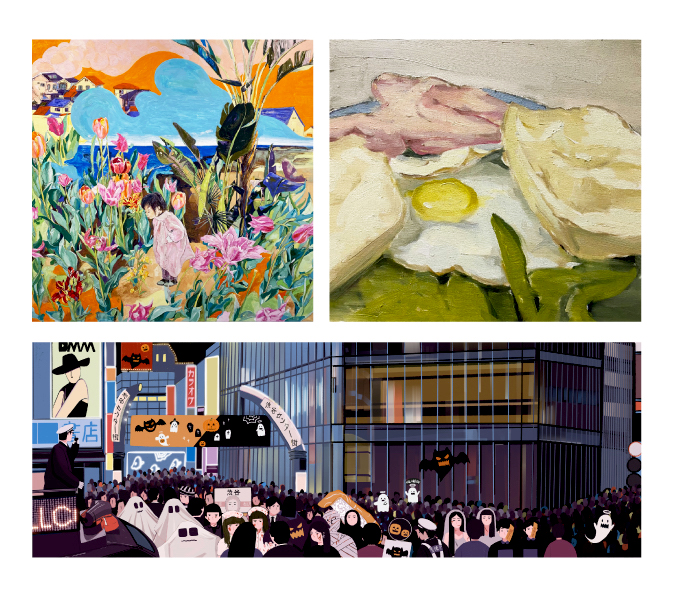 Sho+1 is pleased to announce a group exhibition, titled "Destined Encounters" from May 20th to July 2nd, 2022.
During the past few months I made multiple trips to the graduation group show at several art colleges and institutes to look for the new talents. And, I came across the idea to bring up my former two heroes from 2006; Motoko Otsuki and Masaya Yoshioka to be participated in the upcoming group show, along with newly discovered artists. Otsuki is the first artist whose work style made me a great impact when I started an experimental project, called Galerie Sho Projects in 2006. Each of her oil painting makes a recollection of childhood memories in dairy scenes with her peculiar brush techniques. Yoshioka's infant background was tragic one to experience continuous sexual abuses. That made Yoshioka arisen sexual fantasy in extremely narrow mind. In his West Coast series one can only discover that variety of women exposes explicit erotic behaviors under the blue sky. His Otsukimi (Moon Viewing) paintings often engender gloomy but romantic mood under unnatural environment. From the group of previously veiled artists; Rikizo Masusaka is multi-talented in his activities from motion pictures to graphic designs. I am thrilled to introduce his unique animal series with the high-tech computer drawings. Tian Xinyu originates from Mainland China, and she depicts ordinary Tokyo life with her domestic Chinese vision that produces quite different mindset from a Japanese looks at the metropolitan city of Tokyo. Huh Youah is a Korean artist; however, her paintings supported by using natural mineral pigments reflect the lights by California artists like Jennifer Bartlett, Robert Bechtle, and Paul Wonner. Another Korean artist, Seol Jaeyoung's mezzotint technique is superb to make stars romantic and radiant. The successive enumeration of her "Crystal Clear" series seems to be reminiscent of a delicate production manner of Vija Celmins. Aya Yoshida creates a unique monochromatic world to capture various creatures and little girls as if they live in the alternate state whilst Itsuki Mori is a resident of a wonderland to develop her colorful, pop, and sweet universe. Konomi Makishi's essence comes from orthodox graphic designs but her creativity lurks in a child-like naiveté to make full use of collage and assemblage methods into her work. What is important for the works by Aoi Honjo is speed and movement. Even if she paints a serene landscape, she transfuses some kind of motions in there. lil undone is a gift child from the digital generation to create conceptual art. One of his paintings, titled "Come up during Tokyo" gets inspired from a HIPHOP artist's Travis Scott's "Astro World" album. lil tells here that vague memories in the past are realized as fluctuation. Meena Hirama executes an experimental painting, and one can feel cry of her soul in there. Hikari Yamagami is very gifted to have acted as a radio personality, an actress, an editor, a lecturer for intellectual training, and a freelance model. Although she has been conducting photographic expressions on herself up to now, she challenges a story telling project this time.
I hope that this group show is to become reoccurrence of the creation that adverts the avant-garde expression and free spirit at Fun Gallery, founded by Patti Astor and Bill Stelling at East Village in New York City in 1981.
Sho+1
Representative Director
Shoichiro Satake