Scopes

July 13th - August 7th, 2021
12:00 - 18:00
Closed on Mon. Sun. & Holidays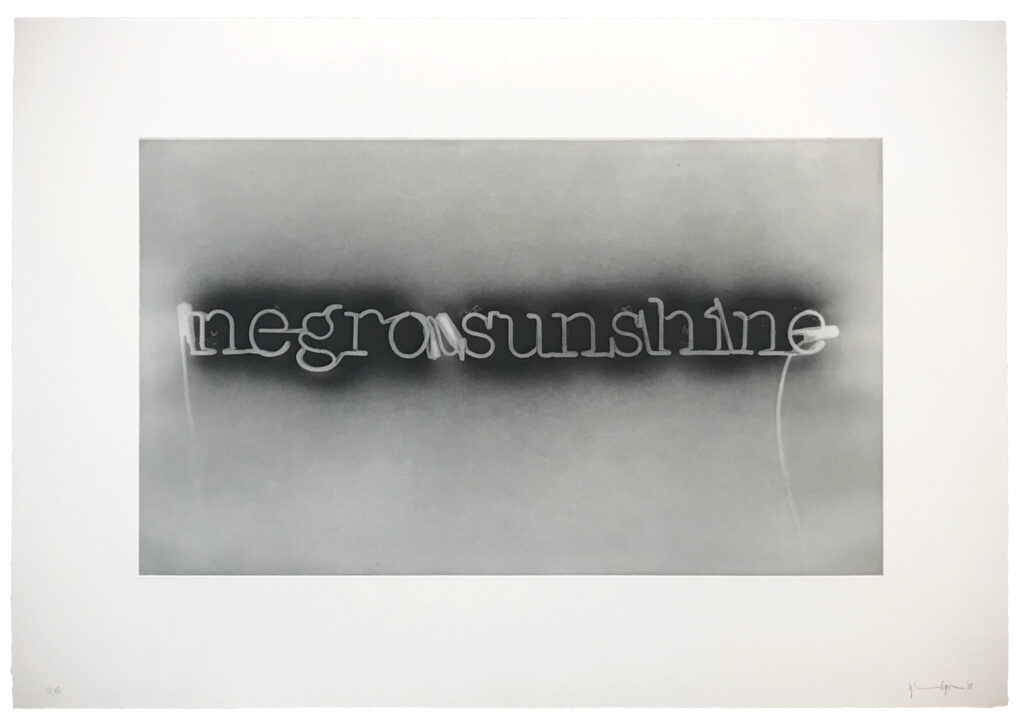 ©︎2021 Glenn Ligon
Sho+1 is pleased to announce a group exhibition, titled "Scopes" from July 13th to August 7th, 2021.
Andy Warhol, Barbara Kruger, Jasper Johns, Jean-Michel Basquiat, Robert Longo, Rob Pruitt, Niki de Saint Phalle, Rammellzee, Glenn Ligon, Zenzo Sakamoto, Kenji Misawa, Shinichi Hara, Chika Akanishi, Tomoko Konoike
Tattooed Woman Holding Rose is an early work by Andy Warhol when he was still a commercial designer, and he made it for the distributing purpose to advising agencies in New York in order to acquire illustration job. Another piece of work by Warhol is an invitation card to the exhibition when he published a portfolio of Mick Jagger limited edition prints. Barbara Kruger is a well-known artist who makes American ads and languages, used by mass media elevated into the form of art. The phrase created by her is short and simple but stunningly interesting while it sometimes predicts the future. Among one of her contexts, I Shop Therefore I Am will be the most favorite slogan by American people who are maniac to consumption. Jasper Johns has become famous to make a series of flag paintings when he dreams of an American flag. However, it is notable that he launches a series of figures as a minimalistic and abstract motif. He picks up 0 through 9 number by finding interests in the shape of the number rather than the meaning of number. Figure 3 also exists in the color version but this black and white edition seems to reflect more of Johns essential working style. Jean-Michel Basquiat is one of the brilliant graffiti artists of the 80s. His essence comes from activity in legendary music unit, called "GRAY" before Basquiat starts to paint. During his musical career he happens to meet various musicians. Among them there is a band named, The Offs (formed in 1978 in San Francisco) whose primary members are Billy Hawk on guitar and Don Vinil on vocal. The Offs released the first album in 1984, and Basquiat did artwork for the record jacket. The initial press was only made in limited edition of 370 copies. They are quite valuable among Basquiat collectors. Robert Longo is one of the key artists during the new painter trend of the early 80s. His major series, "Men in the Cities", which depicts momentary movement of human bodies with Longo's smart insight as if men receive electric shock, has gained a great success. Longo basically appropriates images and forms from what is happening in the society and constructs the essence of his work. From this point Gun could be a rather more important theme which Longo himself emphasizes in. Rob Pruitt is a renowned conceptual artist in America who has an eccentric character to execute various performances like "Cocaine Buffet" which can be often controversial target in public. Yet, aside from such activities Pruitt has achieved a high popularity by creating series of endangered species; panda paintings. One can see, as an example, a golden glittered panda, called "Country Girl". Niki de Saint Phalle is a French painter, sculptor, visual artist, and videographer to make her name known worldwide. Saint Phalle concretes her position as an artist by affirming and emphasizing female sexuality in her series of own character, called "Nana". Saint Phalle experienced sexual assaults from her father when she was 11, and she was forced to be subordinate to men in life by her mother. As a result, Saint Phalle has become distrustful of human beings, suffered from emptiness and loneliness for many years, and made a sense of solidarity with those who were eliminated from society and law in general. This Untitled pair drawings created in 1967 are interestingly observed in symbolic homosexuality of lesbian and despising male sexuality. This is a good example of small work by Saint Phalle who has fought against serious distress occurred by the matter of gender from her childhood. Rammellzee was a New York based artist who had multi talents in videography, graffiti art, performance art, hip hop music, and art theory. His activities were in wide-ranging. The work, Wild Style Dedication, fundamentally reflects the definition of Rammellzee's own creative concept, often known as "Gothic Futurism" which describes the battle between letters and their symbolic warfare against any standardizations enforced by the rules of the alphabet. Glenn Ligon, especially in America, has been paid attention as an artist who appeals black racism to visualize in the text format from the early 90s. The text of "Negro Sunshine in this Warm Broad Glow was initially released in the form of a sculpture made by neon tubes. Ligon extracted this title from Three Lives (1909), written by Gertrude Stein who was an American novelist, playwright, and art collector. Zenzo Sakamoto is known as a Japanese abstract painter whose paint brush has peculiarity in grey and black. The painting, titled Ariake, is unidentified if it is a name of place in Tokyo or an original meaning of the word which signifies dawn breaks when moon still remains in the sky. The artist only knows the truth, and the viewer feels as it is.
A Kenji Misawa's masterpiece painting, Secret Of Life Or death was born in survival through his memory of wandering between life and death from the experience of the brain tumor surgery. One can see there that Misawa clings to life energetically even if he is heavily suffering and struggling. A brand new works by Shinichi Hara, titled HEAVEN FRUIT-1, HEAVEN FRUIT-2 are expressing the world of love, peace, hope which are major themes of his productions through the female body. Twisted naked body drifts in space-time, and the soul that leaves the body is floating as if it connects to the universe. Chika Akanishi is a new comer who takes a quite different approach to create her paintings from today's so-called, massively popular Kawaii (cute) paintings among Asian regions. Sometime she replaces all characters described in "The Luncheon on the Grass" into female dressed-up male. On the other hand, she fanatically focuses on the theme of super dressed heavy metal musicians and on gender-related matters. The work titled, Rose Waiting for Spring is her self-portrait. Tomoko Konoike plays with various mediums such as; animation, illustrated books, paintings, sculptures, songs, photography, handcrafts, or fairy tales, and with massive energy she creates her own works beyond the audience's imagination including the sense of betrayal to the viewers by being herself in unconventional way. Globe Cross Section – Silverly Sleep which was publicly announced in 2006 is described her scope for dairy productions, structure of thoughts, existence of images, tool and technology in magnificent scale throughout the bonds between gravity of earth and self-expression.
---
NEWS